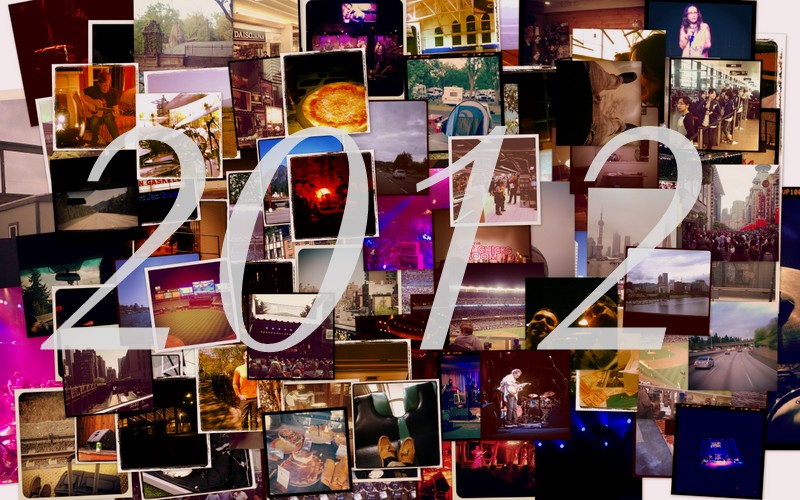 2012 was a great year. I think one year ago I was talking about building a solid foundation of some sort. As I look back on everything that happened in 2012, there is one lesson learned that sticks out in my mind above everything else:
"The process is the result."
Of course there are different parts of this idea by which we identify in terms of beginning, middle, and end, etc. But the main essence that is behind all of that– The idea. The motivation. The work. The reward. This is all just an ongoing process that you have to keep striving for at any given time, no matter what. I've grown to be less concerned with where I am in the process, and rather making sure that I'm engaging in the process that's there without taking a thing for granted and respecting it for what it is. Worrying about where you are and what you're doing is really very pointless. Just make sure you do what you love and figure out how make everything else work out around that.
As far as 'stuff that happened' here's my 2012 in a nutshell:
-Helped Kamiak WGI Pit/Percussion achieve their second undefeated season in a row
-Toured with Eric Tollefson
-Visited NYC for the second time
-Traveled to Shanghai, China with a portion of the UW Band
-Released my most successful YouTube video yet
-Visited Hawaii in the inaugural year of Washington All-State Marching Band
-Got to help some amazing Japanese musicians during their PNW tour
-Arranged some great music for Senshu University Tamana HS from Tamana, Japan
-Got to work with the best UW Drumline ever up close and personal during their season
-Accepted the captionhead job at my old corps – The Cascades
-Visited NYC (again) and Boston
-Reached 1000+ YouTube subscribers
-Started doing drum lessons via skype
-Received the greatest form of motivation ever in watching old friends Allen Stone/Greg Ehrlich/Brent Rusinow/Trevor Larkin/Mark Sampson/Jason Holt become truly legitimate professionals in this craft – culminating at their Paramount show in Seattle
-Built a website for my mentor, David Reeves
-Rounded the year out with a Vegas trip and another year at Snowflake Lane/Celebration Lane
-Played numerous shows with many great musicians thoughout the Seattle Area
Thank Yous:
Mom, Dad, Chris (brother), Deanna (Sister), Anne, Clark, Evan, Aunt Val, Nanny, Bob Lefsetz, Brad McDavid, Janie McDavid, Steve Henry, Tarik Abouzied, Eric Tollefson, Andrew Vait, Nick Benson, Andrea Sander, Andy Wray, Bruce Jacoby, Mark Branson, Nick Phillips, Henry Go, Carol Carpenter, Dan Twiford, Shawn LaFrenz, Steve Armstrong, Kevin Geis, David Reeves, Keith Aleo, Alec Wilmart, RL Heyer, Shane Smith, Tim Carey, Kelly Ash, Tim Keller, Brian Kinsella, Oliver Franklin, Ari Joshua Zucker, Scotty Goodwin, Chris Jones, David Andrade, Jake Amster, Lisa Buchheit, Cory Evans, Matt Peterson, Ben Hedwall, Alec Wollen, Toby Bathurst, Ricky Martinez, Robert Groves, Mitch Barnard, Skyler Delatorre, Colin Brown, Sean Gaskell, Megan Healy, Matt Little, Kevin Welborn, Rachel Moore, Anna Spangler, Andrew Doedens, Sharief Hobley, Doug Hebenthal, Ryan Masterson, Matt Ramey, Murray Gusseck, Mike Lundquist, Aaron Spears, Cory Meals, Dan McDonald, Ben Gary, Louis Figueroa, Devin Bews, Haley Larkin, Brent Nagamine, Chris Clarke, Catherine Watters, Jordan Conger, Garey Williams, Jon Brown, Claudio Rochat-Felix, Art Brown, Brent Rusinow, David Kim, Brent Edwards, Tony Sodano, Allen Stone, Ian Sheridan, Tim Kennedy, Trevor Larkin, Greg Ehrlich, Eric Peel, Mark Sampson, Jason Holt, Gabriella Vizzutti, Landon Cross, Kristin Alessandroni, Matt Peteshel, Brett Hite, Keith Rousu, Darren Meucci, Andy Bowerly, Marina Mulligan, Everett Blindheim, Mike Nederhood, Mike Roling, Miho Takekawa, Diego Coy, Adam Gross, Ryan Wagner, Rica Mackert, Tomio Yamamoto, Masa Ohtake, Yoneda-Sensei, Uchimura Yuki, Juri Nishimura, Emi Takeda, Masataka Watanabe, Tomohide Kodama, Satoru Hamada, Chris Whyte, Alison Farley, Kevin Swisher, Kristin Swisher
Here's looking forward to a great 2013. Thanks all for your support and encouragement!